Every Friday I will take a snapshot of this year's current crop of prospects at each position relative to how they were ranked a year ago. I'll examine the top performers, those who did not live up to our lofty expectations, and the key graduates. Our rankings last year were compiled by Andy Germani and myself, and I know we have our fair share of hits and misses. The point of this exercise, though, is to highlight players to target heading into 2017, as well as those to look at moving while they still have name value.
There may have been 7 third basemen from Last year's Top 25 Third Base Prospects who made it to the majors last year, but none had more than 85 at bats. I don't see any of them looking like safe bets to enter 2017 with a starting position either. The top rookie performers weren't even ranked heading into 2016; Cheslor Cuthbert of the Royals, and Ryon Healy of the Athletics. It was a tough year for most of our top ranked prospects heading into the season, but there were a few bright spots too. Let's take a look.
The Graduates
(2016 rank in parenthesis)
(1) Joey Gallo, Rangers: If you thought Gallo's 57 strikeouts in 108 big league at bats in 2015 was bad, the 19 he had in 25 at bats last year was even worse. He had a pretty successful campaign in AAA though, in fact he's got a little pattern going here as far as repeating levels go. If this keeps up, there are positive things to look ahead to. I'm a lot less optimistic than I was a year ago, but Gallo is just 22 years old, with plenty of time to fulfill his monster power potential. He will be playing first base in winter ball with a shot at winning a role with the big league club right out of spring training. 
| | | | | | | |
| --- | --- | --- | --- | --- | --- | --- |
| Year | Level | AVG | OBP | SLG | BB% | K% |
| 2014 | AA | .232 | .334 | .524 | 12.4 | 39.5 |
| 2015 | AA | .314 | .425 | .636 | 16.4 | 33.6 |
| 2015 | AAA | .195 | .289 | .450 | 11.8 | 39.5 |
| 2016 | AAA | .240 | .367 | .529 | 15.7 | 34.6 |
| 2016 | MLB | .040 | .200 | .160 | 16.7 | 63.3 |
| 2017 | MLB | ?? | ?? | ?? | ?? | ?? |
(T22) Kaleb Cowart, Angels: Cowart ended the season with 131 major league at bats, taking himself out of the running for Rookie of the Year in 2017. Otherwise, he could have threatened after rebounding from a .174 average in 2015 to a .176 mark last year. Honestly, I see nothing positive to write here other than it's kind of nice not to have to see Cowart on any prospect lists moving forward.

The Risers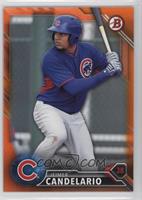 (T19) Jeimer Candelario, Cubs:  Candelario quietly destroyed AAA, hitting .333/.417/.542 last year including a .404 average with a 1.023 OPS over the season's final four weeks. The last thing the Cubs need is another infielder knocking down the door, but he certainly makes for an interesting trade chip. Candelario hits well from both sides of the plate and has even silenced the critics of his defensive ability. I think he can be an everyday third baseman or close to it – it just won't happen with the Cubs. 
(25) Hunter Dozier, Royals: Dozier was a first-round pick in 2013, but he never lived up to that kind of hype. In 2014 and 2015 he barely hit the Menoza line in AA, but returning for the third time in 2016 it was, as they say a charm. After a month, where he had an OPS over 1.000, Dozier moved to AAA and eventually got in a few games for the big league club. With no future spot for Dozier at third base with Moustakas' return and with Cuthbert backing him up, the Royals played him in right field. I don't see a whole lot of opportunity there for Dozier right away either, so it may take an injury for him to make the team out of spring training. A trade is also a possibility, because at 25 years old there is little left for Dozier to prove in the minor leagues. 
(24) Yandy Diaz, Indians: Diaz defected from Cuba in 2013 and the Indians are looking pretty smart for their $300,000 investment. There isn't a lot of power or speed to blow up his stat lines for fantasy, but there is very good contact and discipline skills to go with position flexibility. With Jose Ramirez having solidified his spot at the hot corner, Diaz looks posed to serve as a super-utility type for the Indians in 2017. Unfortunately I think he needs an injury to become interesting for fantasy purposes, but at least from a baseball perspective he is a name to know for 2017. 





The Fallers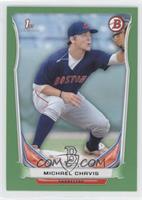 (7) Michael Chavis, Red Sox: Chavis spent most of the year repeating A ball – and not really doing well at it. He was eventually moved up to High A Salem, but did even worse there hitting .160/.222/160 in a brief 7-game stint. There's some power there and at 21 years old, there is plenty of time for him to live up to his first-round draft selection. It looks like it was just premature to rank him so aggressively last season. He did cut his strikeout rate significantly the second go-around in Greenville, but it still came out at 23.7%. That's not terrible for a power hitter, but it would be great to see some of that power translate in games. 
(12) Eric Jagielo, Reds: 24-year-old prospects that hit .205 in AAA with a .104 ISO and a 30.5% K rate generally aren't moving up any prospect lists. Not only are the strikeouts a huge concern, but the bat isn't going to play if he has to move across the diamond. There is some power – at least there was – but his ISO dropped in half last year from past seasons. It's time to cut bait even in deep leagues. 

(8) Renato Nunez, Athletics: All was not lost in 2016 as only 5 players hit more home runs than Nunez in the PCL this year and Nunez was younger than all of them. Why the hate then, you ask? Nunez took a big step back in his discipline, dropping his BB rate from 6.7%-5.6% and increasing his strikeouts from 15.9%-21.6%. While the jury was out as far as his ability to stick at third base, it's looking more and more unlikely for the young right-handed hitter. He's just 22 years old, and earned the cup of coffee he received last September, but he's going to need to make some adjustments if he is going to make it as a full-time player. I like him – but as he's gotten closer to the show it looks less likely that can be much of a fantasy asset – especially at third base. 

The New Faces
Nick Senzel, Reds: The best hitter in the 2016 draft, Senzel went at #2 overall and signed for the largest bonus in the class. He has a great approach at the plate and can hit for power as well. Here's a look at his first professional home run courtesy of milb.com:
In his debut with Low A Dayton, Senzel hit .329/.415/.567 with 7 home runs and 15 stolen bases in just 58 games. There's very little not to like about Senzel and he should move quickly through the Reds' system. He plays well enough at third that he shouldn't have to move off the hot corner any time soon. His bat makes him one of the top players to target in 2017 fantasy drafts. 
Vladimir Guerrero Jr, Blue Jays: The son of Vladimir Guerrero was one of the most exciting international prospects of 2015, and the Jays paid $3.9 million to procure his services. He has a ton of raw power and can hit just about anything like his father. The Jays moved him to third base, if only to cause his value to go even higher in fantasy circles. Whether he sticks there or not is anyone's guess at this point, but his bat will play no matter where he ends up. Just 17 years old, the young Guerrero hit .271/.359/.449 in the Appalachian league with 8 home runs and 15 stolen bases in 62 games. There are few young prospects that I like as much as him – it will just take a lot of patience to reap the rewards. Of course a lot could go wrong in that time too, but his prospect hype is only going to climb so now is the chance to try to get him. 
Joshua Lowe, Rays: Lowe was another first round pick from 2016, landing with the Rays at #13. He was a two-way player, considered by many the top high school arm to come out of the draft. Still a ways away, Lowe has solid speed and power from the left side. I'll be careful ranking him too aggressively as just an 18-year-old who hasn't seen full season ball, but he's worth keeping an eye on. Heck, if things don't go well for him at the plate, there's likely a future for him on the mound. 
*****
Next week I will take a look at shortstop prospects, where we saw eight of the top thirteen ranked see significant time in the majors. 
Prospects: Rankings Movers
Catcher – First Base – Second Base – Shortstop – Outfield – Pitchers

Head on over to Fantasy Rundown for more minor league prospect news, draft prep advice, off-season happenings, rankings, and tons of other baseball related links.