We're barely into June and RB Todd Gurley has become a fantasy pariah. In just 3 months, his redraft value has gone from a top 5 overall pick in early March down to a late first round pick in early June.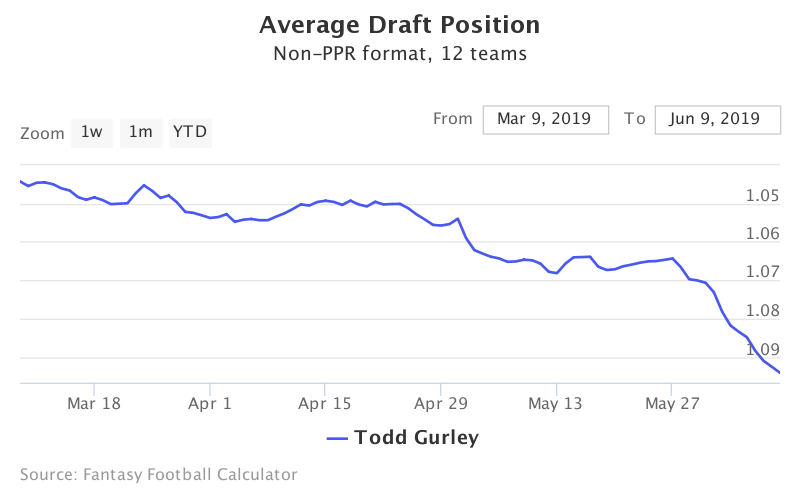 Recent reports are not very encouraging regarding his knee or his projected usage in the Rams offense. Dynasty and keeper league owners are panicking. Gurley's trade value has all the market price of a cassette player.
Perhaps it will help if we review Todd Gurley's timeline?
Nearly a year ago, back on July 24, 2018, a 24-year old Gurley signed a four-year, $60 million extension through 2023 which included a record $45 million guaranteed. Life was good and Gurley did not seem worse for wear heading into the 2018 season.
REPORTS OF HIS KNEE BEGIN TO SWELL
Let's fast-forward to week 15 of the 2018 season against the Eagles. Despite 124 total yards, 2 touchdowns, and playing on 98% of the Rams' offensive snaps, Gurley's knee becomes the headline.
Two days after that Eagles game on December 18, the Rams sign a one-year rental deal with RB C.J. Anderson. Gurley will not play in the last two regular season games but returns for week 19.
In the Divisional Playoff Round versus Dallas, Gurley rumbles for 115 yards and a touchdown. In spite of these stats, his low 57% of the offensive snaps dominate the narratives. Four days after the Divisional Playoff game, Gurley is officially removed from the injury report.
Another 4 days after that, the Rams beat the Saints in the NFC Championship game. Gurley's box score includes a paltry 5 touches, a dismal 13 total yards, 2 dropped passes, and is on the field for an even lower 46% of the offense. Brutal numbers yet he manages a touchdown.
Both head coach Sean McVay and Gurley claim he's healthy, but news feeds are saturated with a knee conspiracy.
At this point, it may be worth noting that as the Rams entered Super Bowl week against the Patriots on February 3, Gurley has only played in 2 games (both playoff games) in the last 6 weeks.
Naturally some will blame the knee. However, it makes sense that playing in only 2 games in 6 weeks could be attributed to a conditioning factor which was also eluded to in interviews.
Marking his third game in 7 weeks, the defensively stifling Super Bowl did not help Gurley's resume to remove any lingering knee questions. In case you need a reminder, the Rams – who were the top-scoring and the top-yardage offense in the NFC – only managed 260 total yards and 3 points.
It was the lowest-scoring Super Bowl. Ever. In that game, Gurley had 11 touches, 34 total yards, playing on 66% of the offensive snaps.
On March 2, 2019, it's reported that Gurley has arthritis in his left knee.
According to WebMD, it can be treated and not limited to strengthening the muscles around the knee, pain relievers and anti-inflammatory drugs, injections of corticosteroids or hyaluronic acid into the knee, and braces to name a few.
The irony is that arthritic knees need exercise to keep loose, which can also cause pain. Let's not forget that NFL teams have state-of-the-art medical facilities. Players get immediate and thorough medical attention.
FREE AGENCY AND THE NFL ROOKIE DRAFT
It's been nearly 3 months since the Super Bowl and it's been more than 5 months since the news of his knee were published.
Without going into the various strategies of team needs in relation to the NFL draft, it may be fairly safe to conclude that the Rams had to have done their due diligence on Gurley's future prior to the NFL draft. Elite player. Franchise-crippling uncertainty.
The reality is the Rams were in serious need of depth behind Gurley, with or without any knee issues.
Malcolm Brown broke his collarbone in early December and missed the rest of the season himself. In fact, since the week 15 game versus the Eagles (their 14th game), if you were to take C.J. Anderson out of the equation, the remaining RB duo of John Kelly and Justin Davis combined for a 5% share of the offensive snaps from weeks 16 through week 21. With Anderson was on a 1-year rent-a-player deal, the Rams needed to address their RB depth regardless of Gurley's situation since it was obvious Kelly and Davis were not the answers.
The highly anticipated free agency period begins. The Detroit Lions offer Malcolm Brown a 2-year deal worth $3.25 million. The Rams match it and retain Brown, who garnered 11.2% of the Rams' offensive snaps.
Next the 2019 NFL Draft rolls around. The Rams drafted RB Darrell Henderson as the 70th overall pick in the third round. Henderson was neither the Rams' first pick in the draft. (That honor went to DB Taylor Rapp in the second round.) Nor was he the first RB taken (third). Josh Jacobs (OAK) was the first RB off the board followed by Miles Sanders (PHI). After the draft, Matt Colburn was signed as an undrafted rookie RB.
To recap: With worries swirling about Gurley's workload and effectiveness, the Rams response in the free agency period results in a status quo. Afterwards, the draft adds Henderson early and then Colburn late.
The NFL draft had barely wrapped up its weekend when it is reported that McVay may implement 2 back formations. In addition, he's quoted as saying, "As far as managing the workload, those are things that we talk about with Todd and as you continue to get educated on, is that something that we should do for the long haul or something that is or isn't going to affect Todd most importantly and how does that affect our team."
A month later at OTA's, it's revealed that Todd won't be participating. This fuels more hopeless negativity and speculation. To paraphrase Mark Twain, "The reports of Gurley's death have been greatly exaggerated."
RAMIFICATIONS PERSPECTIVE
I admit, this isn't the best news – having an arthritic knee, along with coaches being quoted as scaling back his workload. However, this is a player on an elite yardage and scoring offense. Until proven otherwise, Gurley is still the best option at RB on the Rams.
An arthritic knee is not necessarily caused by an injury since it is the slow deterioration of the natural cushioning between joints/cartilage. Since this wear is slow, Gurley most likely was dealing with this during the 2018 season. A regular season, mind you, where he averaged the second-most scrimmage yards per game for a RB, and had more touchdowns than any other player. All while playing in only 14 games!
Should the Rams decide to limit his touches, it should be noted that the idea of splitting touches really isn't a new idea. During the last 5 seasons, an average of 6 NFL teams (out of the 32 teams) produced a RB that averaged over 20 touches per game. All teams have their lead RB share carries to some degree. Let's suppose the Rams copy the Saints' formula to limit Gurley's touches. Both Mark Ingram and Alvin Kamara shared a backfield on a top offense, yet were top-15 RB in a time-share in back-to-back seasons.
Regarding the addition of the rookie Darrell Henderson, recent history shows that rookie RB drafted in the third round average just over 700 total yards in their rookie season. If Henderson and the Rams maintain that trend, the residual projection for Gurley would still translate to plenty of touches, almost 1400 yards and plenty of touchdowns, which would presumably land Gurley in the top 15 among fantasy RB.
Of course, as with any knee issue, fantasy owners will want a second opinion.
Sources: Rotoworld; ProFootball Reference.com; Fantasyfootballcalculator.com; Football Outsiders.com; WebMD.com
Visit Fantasy Rundown for additional fantasy football articles and 2019 rankings.